Director of Innovation scoops the first overall winner status of the HIHI Clinical Innovation Award
https://irishtechnews.ie/irish-health-innovation-awards-announced/
Prof. Seamus Morris Director of Innovation @ThePillarDublin and team scooped the first overall winner status of the Health Innovation Hub Ireland Clinical Innovation Award.
Prof. Morris, works as a Consultant Orthopaedic Spine Surgeon, National Spinal Injuries Unit, Dublin, with his innovation, MINT
MINT: A Revolutionary New Technology for Neurophysiological Testing in the treatment of neural compression.
The MINT project, short for Machine Learning and AI in Neurophysiological Testing, is developing a new technology for neurophysiological testing. MINT uses advanced machine-learning algorithms to interpret wave patterns in neurophysiological testing, providing on-demand, and quantifiable assessment by non-skilled personnel.
Compression of neural structures can have devastating consequences, with long-term incontinence and paralysis occurring if surgical decompression is not achieved quickly. Diagnosis of worsening neural compression can be difficult, but neurophysiological testing (NPT) can directly measure neural electrical activity and is used in the diagnosis of the spinal cord and peripheral nerve function. However, access to NPT is limited, and it requires highly skilled personnel to interpret the recorded waveforms.
Prof Morris explained the impact that MINT can have.
"We are committed to developing cutting-edge technology to improve patient care such as the MINT project, which uses advanced machine learning algorithms to improve neurophysiological testing. MINT allows for on-demand, quantifiable assessments by non-skilled personnel, making it easier to diagnose worsening neural compression. This can be crucial, as timely diagnosis and surgical decompression are essential for preventing long-term incontinence and paralysis. We believe MINT has the potential to revolutionize neurophysiological testing and improve patient outcomes."– Prof. Seamus Morris, The Mater Hospital, Dublin.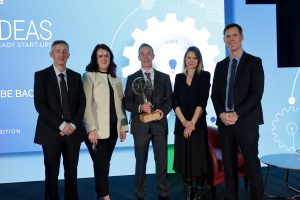 L-R Michael Duane, HIHI, Eimer O'Connell, HIHI, Prof. Seamus Morris, Dr Claire Walsh, Enterprise Ireland, Dr Steven Griffin, HIHI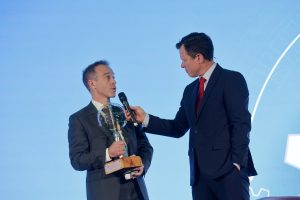 Seamus and Anton Savage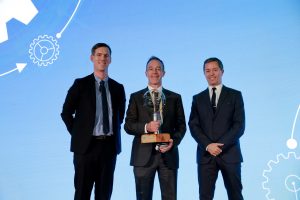 Steve, Seamus, Dr Tom Bannon, Senior Commercialisation Specialist, Enterprise Ireland