Education
Extending the benefit of a university graduate education to working clinical and non-clinical professionals
The Mater Hospital plays a key role in the delivery of a number of undergraduate and postgraduate academic programmes. University College Dublin (UCD) has been our academic partner since the hospital's foundation in 1861. Together the two institutions have demonstrated a commitment to stimulating a culture of learning and enquiry which has led to the establishment of one of the foremost centres for clinical training in Ireland. The hospital also works closely with other academic institutions including RCSI, Trinity College and Dublin City University, amongst others. Our strong academic partnerships help to ensure that academic programmes are grounded in clinical reality and that our clinical practitioners remain submerged in and up to speed with developments in academia and research. The Pillar Centre for Transformative Healthcare offers a high quality educational and training experience in a Level 4 teaching hospital setting. We believe in providing and developing specialist training that is professionally rewarding and relevant to your needs.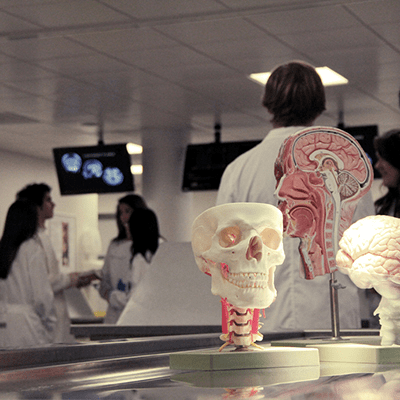 Undergraduate
The Mater Hospital is a primary location for clinical education for the final two years of the UCD undergraduate Medicine Programme and welcomes approximately 250 undergraduate students each year for training in medical and surgical specialties.
The undergraduate curriculum in medicine and surgery modules is coordinated by the UCD Eccles Team at the Catherine McAuley Centre and includes rotations at the Mater Hospital, Cappagh National Orthopaedic Hospital, the Beacon Hospital, the Midlands Regional Hospital in Mullingar, Wexford General Hospital, St Michael's Hospital and St Columcille's Hospital.
The Catherine McAuley Education & Research Centre
The Catherine McAuley Education & Research Centre was opened in 2004 as a partnership between UCD and the Mater Hospital. The centre brings together academic excellence and clinical expertise in an on-campus facility. The development occupies Georgian houses that were donated by the Sisters of Mercy and is equipped with lecture theatres, small group tutorial rooms, clinical skills laboratory and a computer assisted learning laboratory. Facilities at the Catherine McAuley Centre are also broadly used across postgraduate specialties including primary care and can be booked by contacting the Catherine McAuley Centre on the contact details above.
The centre also supports the provision of undergraduate and postgraduate medical education courses
Nursing
Undergraduate education
The nursing department of the Mater Misericordiae University Hospital (MMUH) support three undergraduate BSc nursing programmes in General Nursing and BSc in Children's and General Nursing, affiliated to University College Dublin (UCD) and Dublin City University (DCU). A team of CPC staff co-ordinate many weeks of clinical learning placements for a large cohort of nursing students, placed in different NMBI approved clinical areas for the duration of the programme. Students' clinical learning placements are supported by trained staff preceptors, in line with the requirements and standards of NMBI, nursing regulatory body. Other nursing students are also supported as part of an international exchange programme (Erasmus programme).
Our Centre for Nurse Education (CNE)
The Centre for Nurse Education (CNE) is a purpose built centre responsible for the provision of quality approved and evidence based ongoing professional and specialist nurse education programmes, delivered in response to clinical and professional need. The provision of education comprises mainly of 3 different arms; starting with a series of short continuing professional education courses, followed by a wide range of bespoke clinical CPD foundation modules, and finally a suite of specialist postgraduate diploma programmes linked to UCD as set out:
The 1st arm includes 35-40 different short continuing education courses, ranging from corporate/nursing induction, to clinical skills development, such as venepuncture & cannulation, non- invasive ventilation, preceptorship  to CVADs, all professionally approved by the nursing regulatory body, NMBI.
The 2nd arm involves a wide range of bespoke clinical CPD foundation programmes, developed to support new staff employed to a clinical area from across the clinical directorates. The demand for these popular programmes, approved & accredited by UCD School of Nursing, Midwifery & Health Systems (UCD SNMHS) @ level 8/10ECTS, continues to grow in response to need.
All clinical CPD programmes are educationally governed by the nurse education team in the CNE and clinically supported and facilitated by the clinical facilitators across the respective clinical areas. Some bespoke clinical CPD foundation programmes are linked to a speciality postgraduate diploma programme; enabling learners' receive a full module exemption and a reduced fee from the overall programme fees.
The 3rd arm of postgraduate education, include 9 different speciality postgraduate diploma programmes (60 ECTS) ranging from critical care to diabetes nursing. These formal programmes of learning operate using a shared governance model with UCD SNMHS and the other partner organisations. These programmes include 2-3 clinical modules with significant contribution from the MMUH staff, made up of educators, clinical facilitators and clinicians, regarding the delivery of specialist content, and participation in all formal and clinical assessments.
Significant reform is currently underway in moving the delivery of face to face content to a UCD online learning platform for the speciality postgrad students.
In addition, many weeks of speciality clinical placements is provided by the clinical facilitators for the MMUH and external registered nurses, undertaking these postgraduate programmes, exposing learners'  to a vast array of model 4 level clinical expertise across the specialities.
For more information on any of courses, please contact the CNE cne@mater.ie  or 01 803 2105.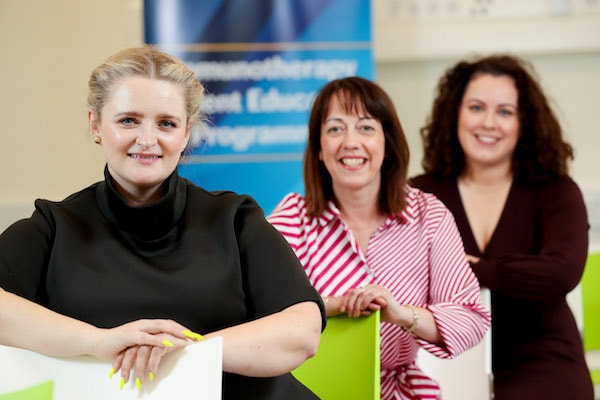 Postgraduate
One of the strategic goals of the Pillar Centre is to emphasise 'added value' postgraduate education
Developing postgraduate education on site allows flexibility for Clinicians who wish to gain specific skills, knowledge or technical expertise in an active and vibrant level 4 teaching hospital environment. MMUH is committed to outstanding training for its medical professionals. The Pillar Centre for Transformative Healthcare strives to exemplify this while expanding the "added value" postgraduate education available.
As an example of this innovative approach; in 2019, MMUH Emergency Departments Consultants in collaboration with and supported by the Pillar Centre, launched the first Point of Care Ultrasound Course (POCUS), utilising the world class skills of MMUH staff to educate future Clinicians. It is anticipated that this model of support will be utilised to develop a range of advanced interdisciplinary postgraduate courses for healthcare professionals. Our goal is;
To establish world-class, interdisciplinary and multidisciplinary training programmes within environments of clinical excellence
To build partnerships with enterprise and other external bodies in the development and delivery of innovative programmes of research and training
To encourage inter-institutional collaboration and efficiency in the provision of excellent postgraduate student training
Providing a diverse range of progressive educational and training opportunities for clinical and non-clinical staff working in healthcare
Proposed Surgical Skills Training and Simulation Facility