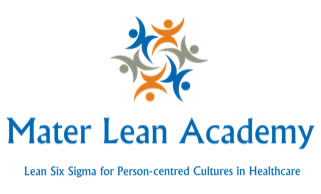 Lean Academy
The Mater / UCD Lean Academy off ers consulting, coaching and training for all disciplines as they learn the value of Lean methodology and practices.
What we are
The mission of the UCD and Mater Lean Academy programmes is
to enable participants to use Lean, Six Sigma, Lean Six Sigma, Quality Improvement and Person-centred improvement sciences to improve the quality of the healthcare experience for patients, their families and staff.
Our UCD Health Systems programmes support students undertaking improvement projects and incorporate consulting, coaching, and training services for all staff involved in healthcare delivery. Our Project work adopts a Person-centred approach to deliver process improvement in a healthcare environment. We offer a suite of process improvement Programmes in Healthcare:
Fundamentals of Lean for Healthcare (White Belt): Intensive One-Day introduction to Lean Six Sigma for Healthcare NMBI accreditation 6 CEU's
Professional Certificate in Lean Six Sigma for Healthcare (Green Belt): Understand the principles and philosophy of Lean and apply them in your own healthcare organisation. Six Month, part time programme NFQ Level: 8; ECTS credits: 10
Graduate Diploma in Lean Six Sigma for Healthcare (Black Belt): Develop process improvement, leadership, research and project management skills to drive the changes necessary for a successful Lean healthcare transformation within your organisation. 1-year part time programme. NFQ Level: 9; ECTS credits: 60
We believe that quality improvement initiatives that result in better patient and staff experiences of care, and patient outcomes, directly correlate with, and are sustained by, the skills and knowledge possessed by all levels of healthcare professionals and support staff. The Academy draws on the experience of its participants, along with our lecturers and adjunct faculty. We apply innovative approaches to process improvement learning and leadership, and we provide our programme participants with the support to pursue their improvement projects from pilot to implementation phase.
Contact Us
The Mater Lean Academy is based within the Mater Misericordiae University Hospital and is part of the Mater Transformation Office. If you have any queries on any of our programmes or initiatives, please do not hesitate to contact us:
Contact Us