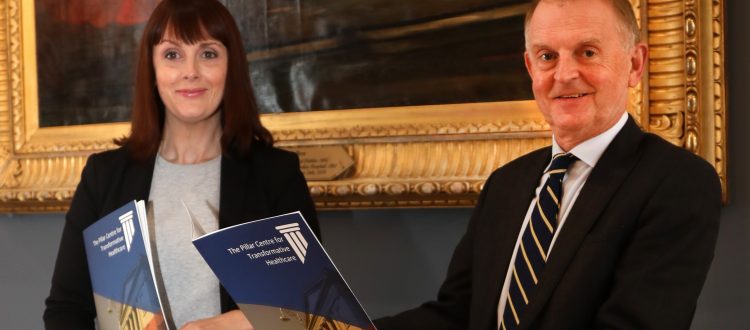 Launch of the Strategy for The PILLAR Centre for Transformative Healthcare 2020-2023
Today the Pillar Centre for Transformative Healthcare at the Mater Hospital has launched its strategic plan for the 2020-2023 period.
Situated in the iconic 1861 building at the Mater Hospital, the Pillar Centre offers a unique, state of the art, interdisciplinary and multidisciplinary space for practical skills training,
simulation and team based learning.
Mater Hospital CEO Alan Sharp said:
"Teaching and learning has also been at the core of what we do at the Mater. This helps our staff to ensure their skills are at the forefront of medicine and means our patients get world class care. The Pillar Centre will improve the education, research and innovation agenda here at the Mater and ensure that this is brought from the bench to the bedside."
The Pillar Centre has identified five main strategic priorities:
 to enhance education, research and an innovation capability
to emphasise 'added value' postgraduate education
to develop a profile in healthcare innovation
to enhance its reputation and capability in research
to be the number one academic clinical campus in Ireland.
A new Directorate for Education, Research and Innovation (DERI) has also been established which will further enable the Pillar to strengthen its academic profile.
Prof. Brendan Kinsley, the Clinical Director of the Pillar Centre, said:
Our goal is to create a centre which optimises the potential of staff at the Mater Hospital. This is a hospital-wide collaboration with academic, commercial and local partners to bring added value to the education, research and innovation carried out at the Pillar Centre. The commitment to these exciting developments will result in improved outcomes for our patients and the community.
Partnerships, Innovation, Learning, Leadership, Academia and Research (PILLAR)