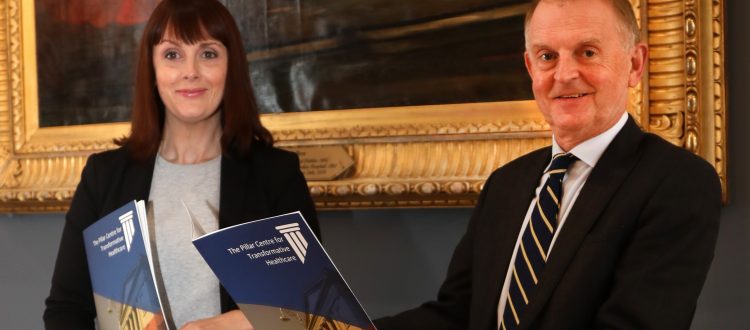 Mater Hospital plans academic centre
A surgical skills training and simulation facility is planned for the Mater Hospital Pillar Centre
A new academic clinical centre at the Mater Misericordiae University Hospital (MMUH) Dublin has today (Wednesday, October 14) launched a strategic plan for 2020-2023 to see training, research and innovation opportunities advanced within the hospital.
Launched in 2018, known as the Pillar Centre for Transformative Healthcare, the centre has been developed in the hospital's landmark building, dating back to 1861, which has been repurposed.
As an integral part of the MMUH and in collaboration with its main academic partner, University College Dublin (UCD) and the Ireland East Hospital Group (IEHG), the Pillar Centre has set out five strategic priorities in today's plan to achieve their vision of becoming "a leader in education, research and innovation".
Prof Brendan Kinsley, Clinical Director of the Pillar Centre, said their goal was to create a centre which optimised the potential of staff at the Mater Hospital.
"This is a hospital-wide collaboration with academic, commercial and local partners to bring added value to the education, research and innovation carried out at the Pillar Centre.
The centre aimed to develop postgraduate education on site for clinicians wishing to gain specific skills, knowledge, or technical expertise. It is also to facilitate Objective Structured Clinical Examinations (OSCEs) to be held on site.
Prof Kinsley believed that unlike the colleges, the hospital sector had not been involved in the higher learning and training space up to now.
The next project they were moving to was establishing a surgical skills training and simulation facility as part of the Pillar Centre, both for the Mater Hospital and for IEHG, he told Irish Medical Times. The planned development was in response to skills needs as, in some areas, doctors working in specialties such as intensive care and emergency medicine already had to complete simulation training.
One of the postgraduate education initiatives underway at the Pillar had been the roll out of the first Point of Care Ultrasound Course (POCUS) by the Mater Hospital (MMUH) Emergency Department Consultants in collaboration with and supported by the Pillar Centre
It was anticipated that this model of support would be employed to develop a range of advanced interdisciplinary postgraduate courses for healthcare professionals.
Prof Kinsley added the Pillar was in talks with UCD on a collaborative proposal to bring the UCD Clinical Research Centre on site where it would operate as part of the hospital and expand the scope of their work.
A research strategy for the Mater Hospital was to be defined which would be aligned to their core areas of expertise, such as cancer, cardiovascular disease, neuroscience, and trauma.
Prof Kinsley said the hospital already had some lead investigators running clinical trials. To date, it had always been individual interested leaders running research or clinical trials. With the Pillar facility, they hoped to bring the development of clinical trials and research, closer to the hospital.
He added that powering up the research capacity of the Pillar would allow them to integrate many more of their subspecialty areas, into clinical trials.
The centre also intends to adopt healthcare innovation as part of its strategy, aiming for programmes in device development and remote monitoring, as well as building a formalised programme in innovation in services and new models of care.